"Pincer toenail Block" is for you who want to release from painful ingrown toenail. This item provides comprehensively made with fine considerations to meet degrees of any curved toenails.

The toenail of individual persons differs in respect of its shape, size, thickness and hardness.
"Pincer toenail Block" allows you to select the most suitable correcting wire to "Just fits to your toenail" like the doctor chooses apparatus to cure your pincer toenail.

By the way, you wonder this pincer toenail correction item is really effective to treat them.
So, we will pick up customer reviews of "Pincer toenail Block" and introduce voices of purchasers / users.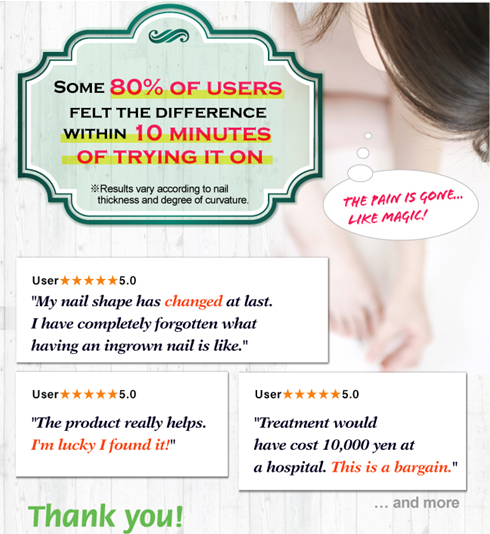 ♦Words of mouth and impressions of users of "Pincer toenail Block" ( from the shop review )

It enjoys a great reputation among many people who used "Pincer toenail Block" that allows you to treat painful pincer toenail by yourself!

HN:Ms Miyuki (30s, female) Evaluation:★★★★/5.00
Before I purchased a normal set, and with it my pincer toenail was getting better. This time I purchased the hard type to correct much more than now. I wanted to buy a pair set but I bought a single set. ▵▵;
So, I now use the hard type for the right toenail. The normal type is mild than hard type. In these days I could pass every day without fear about worsened pincer toenails.♩

HN: Ms kyttbeach (40s, female) Evaluation: ★★★/5.00
To attach the pincer toenail Block was a little bit difficult. But after attached it, it fit well to the toenail.
But, I have to use plaster to prevent the item does not catch socks. I hope my unfavorable pincer toenail can be treated well but it may take a little bit of time.

HN: Little Mama B (40s, female) Evaluation: ★★/5.00
Oh my God! My toenail… I bought this item to care my unpleasant pincer toenail. But because my toenail is too much thick and it did not help to improve toenail. It however may be good for thin toenails.

HN: non name () Evaluation: ★★★★★/5.00
Why I did not purchase this item earlier. Entire part of my thumb swelled up with violet color, and repeated pus and blood go out, and it was very hard to put socks to walk because of too much pain. But, now is quite different from that time thanks to this easy-to put item. I could feel effect soon after I put it on my pincer toenail.
Because people say treatment in hospital needs much money, and I passed dark days without no treatment.
May be there are many people like me, and for them I recommend to use this item to remove pain of ingrown toenail.
I bought correction apparatus only, not a set, and could attach the wire within 5 minutes just using toothpick and tweezers for pincer toenails of the both foot. Correction effect may be different from persons, but it is sure that this item is much better than seal-type one. I think it is worth to try to use this item.

HN: Shuttle 1212(40s, female) Evaluation: ★★★★/5.00
I told to the shop my pincer toenail is very bad with strong pain. And the shop sent me a special item. I do not feel any pain to attach it to pincer toenail. I appreciate to kindness of the shop staffs.
It does not improve greatly the curved toenail, but it is nice friend of me 'cause I can use stocking and wear pumps. I may use the item again in the future when my toenail gets bad.

NH: none name () Evaluation: ★★★★★/5.00
I passed days of hard to walk because of too much pain of pincer toenail. But I wonder why! Attached this item to thumb, the pain went away soon. It is easy to attach and I think this is very good item for ingrown toenails.
Only weak point is its easy-to-catch the socks, and so I need to protect it with tape.

HN: none name () Evaluation: ★★★★★/5.00
In some years ago I corrected my ingrown toenail with BS method. I stopped to care my toenail because it was improved. But my pincer toenail appeared again in these days. The BS method needs much money and time, but it is not a perfect method.
The correction apparatus of pincer toenail of FineHearts is a method to care pincer toenail. So I expect I could treat my pincer toenail with this item. Now I use the hard type and will continue to use it.

HN: sharman3255 (40s, female) Evaluation: ★★★★/5.00
I am a repeating purchaser of this item. Before I used normal type, but after one month passed, I will use the hard type from now on.
Why my star mark is not full of five is due to difficult to attach sometime. But in any way, this is really good item.

HN: none name () Evaluation: ★★/5.00
I bought this item for the first time as trial. The hardness was felt just I put it and I could not feel its effect.
The wire could not stay at the right place on nail, and I lost it often.

HN: Mr. Sparrow (50s, male) Evaluation: ★★★★★/5.00
I bought it for my wife. When do not care, pincer toenail is getting to curve. I bought item set but my wife does not use it right now. It is a kind of guard for the future when toenail shows curving.

HN: aaaaa_0221 (20s, female) Evaluation: ★★★★/5.00
I am a repeater of this item. This time I bought three for reserve. It was right choice because one became loose while using. I use it by fixing with gel.
The tough pincer toenail needs to correct several times to have good results. I also went to hospital. My tough ingrown toenail is not yet corrected well, but I think it takes a certain period of time to have a full effect. I do not expect quick results.