Even though we know it is effective to treat "pincer toenails", if it takes time and using manner is difficult and troublesome, we will give up to use it.

But, do not worry about it. The "Pincer toenail Block" offered by FineHearts is like a simple spring used in fine machine parts. So, you may think to attach it on your pincer toenail takes a certain process.

The answer is "it is not so difficult to attach the item on your nail"
So, if you accustomed to use it, you may need only 10 seconds to do it yourself.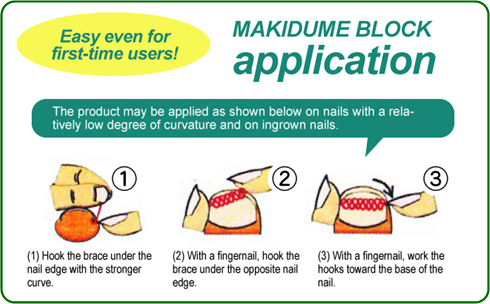 Easy for beginners ! [How to Attach] the "Pincer toenail Block"
1. Hang the hook of compensation unit to the edge of toenail having heavy curve.
2. Next, hang the opposite-side hook to the another nail edge.
3. Guide the spring into the moth bottom of the nail using fingers.
 How about it ? When you accustomed to, it takes less than 1 minute !

For users whose pincer toenail has strong curve or who cannot use fingertips easily, there is assistance item for attaching it to the nail.